Jana Bernhard (Switzerland)
6 months, 2019 2 weeks, 2018
1 month, 2016
Email: jb696@exeter.ac.uk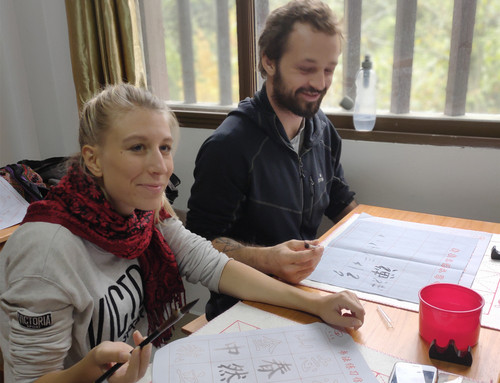 Review 30.03.2019 – 31.10.2019 – Thank you so much for everything!
This school is the ideal place for anyone looking to experience authentic Kung Fu training, Buddhist culture and to really focus on their self-development and internal cultivation.
Ever since I started training under Shifu in 2016, anytime I had the chance to take a holiday, there was only one place I wanted to go, and one thing I wanted to do – go train with him again.
In early 2019, I finally got the chance to fulfill my dream of taking a sabbatical and going out to China for 6 months - and it has been one of the most valuable experiences of my life.
The kind of quality Kung Fu teaching we receive at Er Zu temple from Shifu is absolutely unique. Not only does he have an incredible vast amount of knowledge and skills, he is also the most wonderful teacher I've ever had. Shifu somehow knows exactly what each of his students needs at every point in their training. He recognizes the individuality of each person – their strengths and weaknesses – and tailors each training plan to the uniqueness of the individual. Shifu also knows and appreciates that his students know their own bodies and conditions and allows us to take rests when needed. He is exceptionally good at pushing us to our limits and knowing exactly where they lie.
During my training, I experienced a wave of ups and downs. The beginning was hard as I came out to train after having spent a year not exercising. However, Shifu taught me that persistence, resiliency, focus and repetition were the key to getting back to the standard I had once had. There is no fast track to improving, there is only hard work and never giving up. Sometimes improvements are slower and sometimes big improvements can be noticeable in a short space of time. All of it depends on how well you train, your physical condition and your level of Kung Fu. The slow improving times can be frustrating. But that too is part of the internal development and the general process one needs to go through.
Training with Shifu provides such a beautiful variety. Anytime I felt like my body was in need of a day off, I would try to think of which day would be the best. Yet, every time I struggled because I couldn't bear to take any of the days off. Mondays and Wednesdays were our Shaolin days and I wouldn't want to not practice my forms or even learn new parts. But Tuesdays was Wing Chun, which was always filled with learning and practicing unbelievably useful techniques. Seeing and listening to Shifu explaining how each movement can be used in a real situation was just so valuable that I never wanted to miss it. Even Thursday's power training I wouldn't want to miss because I knew that Shifu would know exactly what he needed to target in us this week and that we would be better for it the week after. By the time Friday came around, I'd already almost made it to the weekend – so why even take a day off and miss out on some seriously fun jumps and rolls training.
I think for most people it is difficult to imagine that training can be so rewarding that one never actually want to take a day off from it. That you have to stop yourself from training a few extra hours on the weekend to make sure you give your body some rest. But that is honestly exactly how it feels when training under Shifu. And I am certain it is because he is so incredibly good at knowing exactly what to teach each individual at exactly the right time and with the exact right intensity. At least for myself, I can say with certainty that, my personalized training plan was absolutely perfect. I trained a range of very diverse forms. They all targeted an ideal combination of my weaknesses and strengths. In the beginning of my stay I got to learn a sparring form with Ollie - Shifu's disciple. That was such an incredible way to gain back my body awareness. Additionally, it also fostered an increase in my awareness of my own space, someone else's space and the element of rhythms and timings. On top of it all, training with someone who has a much higher level than myself pushed me to improve my speed and accuracy. After having spent some time working on developing my weaknesses – spatial awareness and speed – I got to learn a long fist form, which was very well suited to my strengths – flexibility and softness. This ebb and flow between working on my weaknesses and playing to my strengths was a wonderful way to create a well-rounded training plan for me. It kept my spirits up when learning something that suited my strengths, the boost of which helped me persist and push through when I was faced with the challenges of developing my weaknesses. Although I only mentioned two in more depth just now, during my time at the temple, Shifu chose a variety of wonderful forms for me - such as double daggers, chain whip and my final form – snake fist. Each form was difficult and rewarding in its own regard. But in the end, it's not all about which specific forms one learns. When we're at the temple we sometimes jokingly refer to our daily schedule as "Eat, Sleep, Train, Repeat". However, training does not just refer to us practicing Kung Fu. In fact, the "training" aspect in this statement encompasses so much more.
Training Kung Fu is like doing anything else in life. The core values that stand behind training and living Kung Fu are applicable to anything and everything you can think of. Whether it is work, your household, the way you interact with people – your family, friends and even strangers – it all comes back to this: approaching anything you do with dedication and conscientiousness, seeking to improve yourself, being mindful and caring of others, being balanced, playing to your strengths and knowing your weaknesses, and being respectful towards the world and people around you. All of these values are practiced and internalized each and every day when you train Kung Fu right. It really is so much more than just practicing a sport – it's about morals and values. Learning to apply those to life back home is the ultimate goal. Living with the essence of Kung Fu inside you at all times – that is what it all comes down to in the end.
This internal cultivation aspect of training Kung Fu is hugely emphasized by the fact that the school is located at a Buddhist temple somewhere in the mountains in rural China. Staying there provides a very valuable additional element to the authentic experience. There is no better way to gain insight into the Buddhist and Chinese culture than to see and live with it at its core. The temple and surrounding area is absolutely beautiful. Every single morning when I stepped out of my room, being immediately faced with the temple, the mountains and the valley below, I was amazed at the beauty of it all. Additionally, despite the fact that the temple is quite off the grid, the accommodation is absolutely great. Each room has its own shower and western toilet, there is enough bedding around to make your bed very comfortable and Shifu cooks wonderfully delicious and healthy food. The Abbot of the temple has also provided access to a moped, which can be used on the weekends to get to the nearest village for shopping and exploring.
Breaks and rest times can be an ideal opportunity to really immerse oneself in their own hobbies such as reading, writing, painting, making music or even learning some Chinese. However, the group of students also often hangs out with each other drinking tea, doing extra training, watching movies, playing cards or going into town or the nearest city – Yuexi – on the weekends. While even just the trip there itself is quite the experience, it's nice to have an opportunity to go out with the group, whether it is to just grab a coffee and some food or even to celebrate someone's birthday – usually at KTV (which is an absolute must experience when in China). So whether you want get some time to yourself or meet and hang out with interesting people from all around the world, there is plenty of time and opportunity for both.
Lastly, I just want to mention how incredibly kind and warm-hearted Shifu and Cindy are. They are the reason why Er Zu Temple felt like home to me and why I always want to go back. They always want their students to feel good, to feel welcome and to be taken care of. Anything we needed, any worries or concerns we had, whether it is about training or any other regards, Shifu and Cindy were always there. While I have already talked about Shifu's outstanding knowledge and skills at the start, I also want to mention how extraordinary Cindy is. Not only is her English absolutely outstanding, but she is also unbelievably organized, efficient and hilariously funny. When Cindy went back to her hometown for a few months in summer, the place was just not the same without her. I missed her jokes, her laugh and most of all how when Shifu shares his knowledge she is able to translate the essence of his explanations so well – which is very difficult to accomplish for two languages that are so different from one another.
With that, I want to conclude my review by saying a big thank you to both of you – Shifu and Cindy – for everything that you have taught and done for me. I learnt so much both in my training and about life and myself in general during the six months I stayed with you. I can't wait to come back one day and I will try to keep up my training until that day comes.
All the best,
Jana