Wing Chun Forms
The main fist forms in Wing Chun are:
w 36 San Shi
Thirty-six different attack and defense moves
w Xiao Nian Tou (little ideas)
Primary form. It is called primary, but after two stages ofpractice, you can achieve the essentials-giving full scope to the power of the mind, which will lead to an automatic reaction in sparring.
w Xun Qiao (seeking bridge)
Intermediate form. By touching each other's arms, you can judge the next move of your opponent, accordingly give your response. Your arms are just like bridges.
w Biao Zhi (quick offensive and defensive skills)
Advanced form. It's an extension of Xiao Nian Tou and Xun Qiao both in theory and technique that guides practitioners the way to practice.
w Wooden dummy forms
Practicing wooden dummy forms is a high-level way for Wing Chun training, aiming at improving combat abilities. The practice is cultivation of the internal spirit, the ultimate goal of which is to make the wooden dummy and the person a unity.

Wing Chun Applications
Wooden Dummy Practice
Wooden dummy practice is an advanced training method in Wing Chun. It has distinctive styles in training aim, attack requirement, and practice method. Starting with resourceful moves, methods of wooden dummy practice is easy to get at the beginning, of which, attacking and defending at the same time is the prominent characteristic.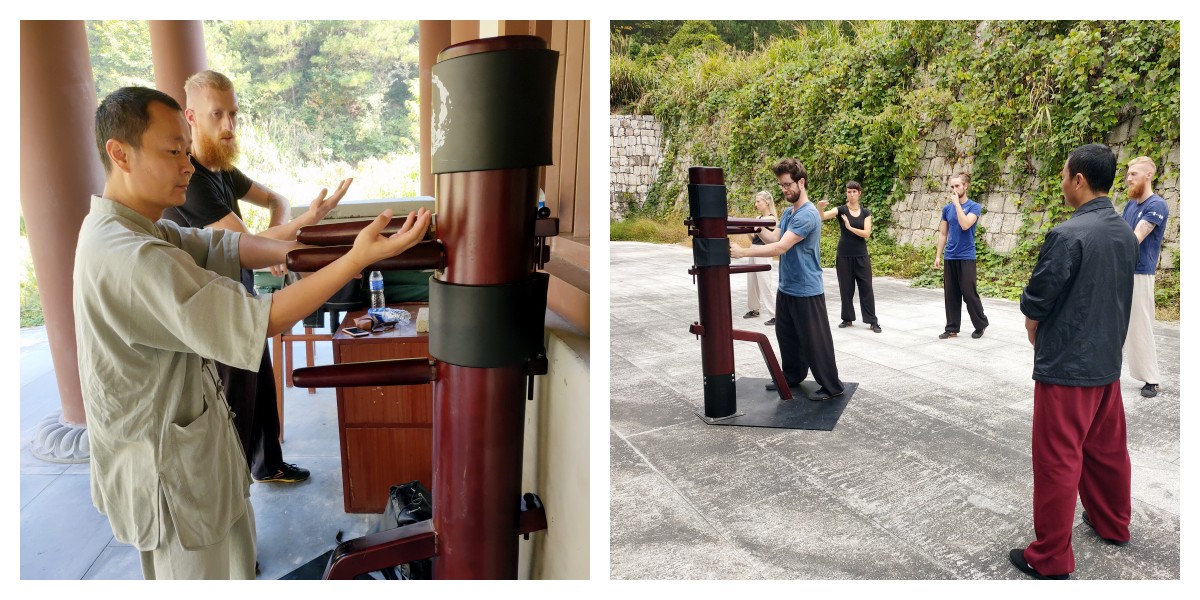 Students are learning Wing Chun wooden dummy moves
Wooden dummy practice emphasizes a combination of theory and move, and it can be integrated with Wing Chun forms Xiao Nian Tou, Xun Qiao and Biao Zhi to practice. With its advantages of flexible steps, solid defense and attack, and less energy consumption, wooden dummy practice is favored by people across the world.